September 27, 2022
Amy Bluhm
Carla Thrives in Her Busiest Season
---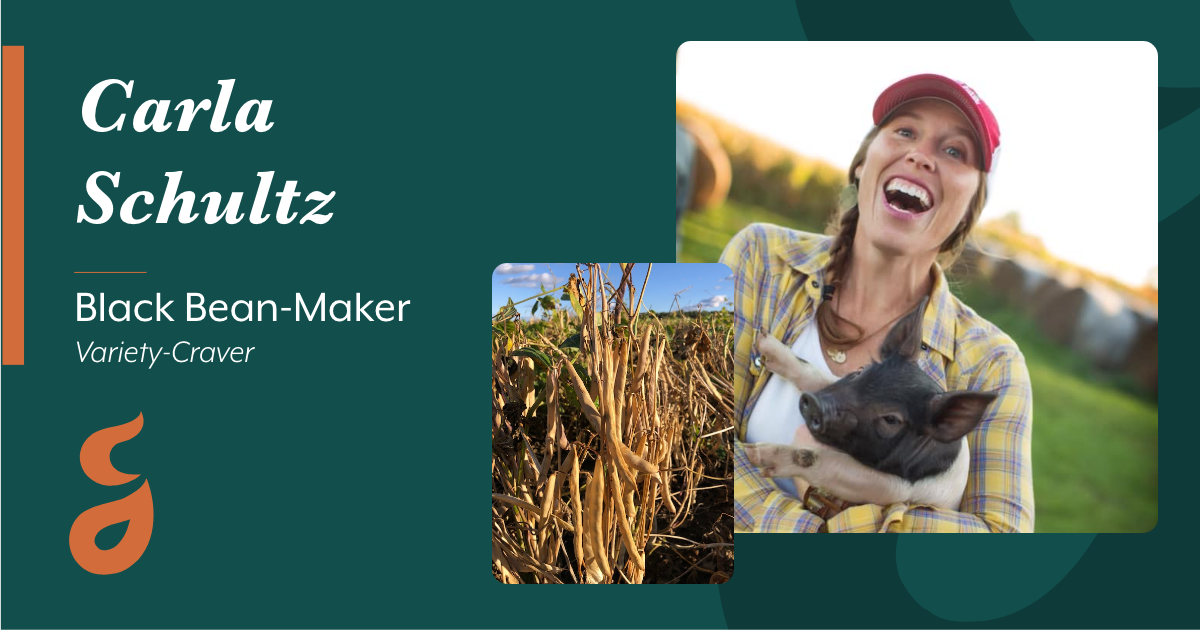 I am an eight on the Enneagram. For me that means that I like to do a variety of things, have a variety of friends and pave the way for other people to get through and succeed. My jobs as a mom of four kids, a farmer and wheat flour sales executive work together really well because I like having a busy and intense life. I love the relationships I've built in each part of it, and that in all of it, I get to prioritize my family. We all have a role to play on our farm where we (me, my hubby and our children) raise corn, soybeans, wheat, black beans, navy beans, hay, beef cattle and pigs together.
Despite my obvious zeal for an intense and busy life, fall is our craziest season of all because of harvest. The intensity is about to crank way up! During harvest, you'll usually find me doing a variety of jobs on the farm, like transporting equipment, and even running the combine. Once we start harvesting, we keep going strong until the job is done. The first crop we typically harvest, black beans, will probably be ready in a few short weeks. Right now, those fields are still quite green and lush – not quite dried down enough. But soon enough it'll be time.
We harvest black beans first out of all of our crops. Our black bean fields are about 15% of the farm, and starting here really helps us to ease into the harvest season. We start with this crop because we share harvest equipment between black beans and soybeans. This way we prevent the soybeans (a common food allergen) from cross contaminating the black beans.
A grain truck gets parked at the end of the field, and then we dump the beans inside when the combine gets full. The combine breaks the pod open to get the beans out, which is why the pods have to be really dry.
Next, we bring the black beans to the local grain elevator to sell them. We also submit paperwork throughout the growing season that tracks our field numbers and any products that we applied. This provides an extra level of transparency, and it makes the final product very traceable. After the elevator, our black beans typically make their way into Bush's® Beans products and potentially into your family's favorite soups or quesadillas. We like to keep some of them back for our own personal use. We take them straight from the field, clean them, soak them and put them to use in our favorite recipes – yum! I'm hoping that this year's crop is yours to enjoy soon. (See below to try out our family's favorite black bean dip recipe.)
Once we finish with black beans, we move on to harvest our other crops until we're done. Needless to say, quiet moments are few and far between at this time of year. I stay sane by relishing the time I spend caring for our animals or grabbing an iced latte in the afternoon to keep me going. And I LOVE to read a real book before I go to bed. Murder mysteries are my favorite because they actually calm my mind and ease me to sleep but keep me interested in the next chapter.
Cheers to the next bountiful busy season, and to the quiet moments we squeeze in.