4.12.16 /
ADMIN
Are We a Corporation or a Family? That's easy. Both!
---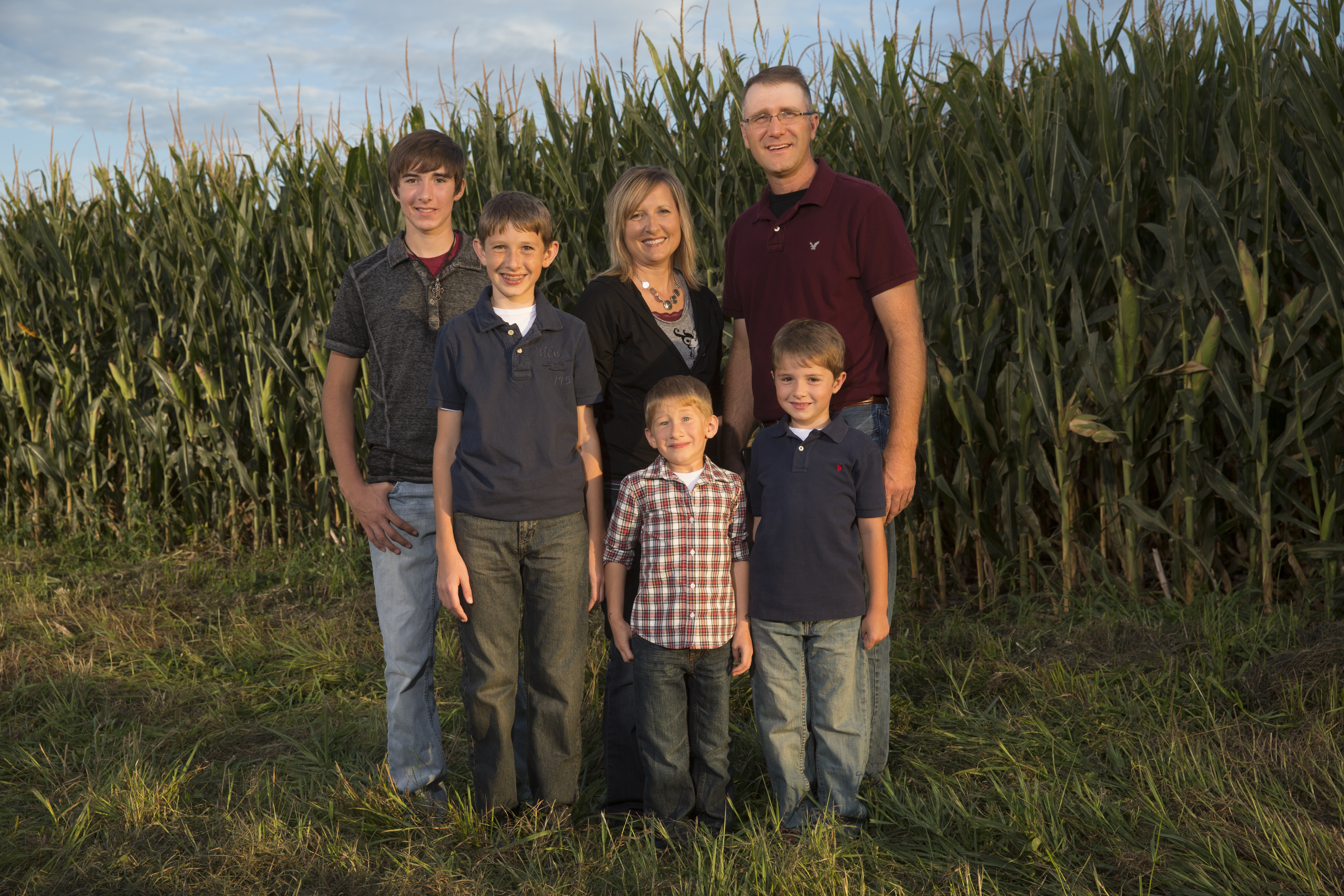 By Diane Karr
Diane is a sixth-generation farmer who raises row crops and beef cattle in Nebraska. She and her husband raise soybeans, corn and grain sorghum, which are mainly used for livestock feed, along with wheat and beef cattle.
Families come in all shapes and sizes. They can be big, small, multicultural, multigenerational, contain stay-at-home moms or stay-at-home dads. Because no two families are exactly alike, each must do what's best for their own dynamic.
The same can be said for family farms. Some are big, some are small and some, like ours, are incorporated. And while the idea of a corporate farm may conjure up negative images for some, for us, the foundation is still family.
My husband and I both come from long lines of farmers. As full-time farmers and business partners, we raise soybeans, corn, wheat, grain sorghum, cattle and (most importantly) four boys, ages 7 to 17. We live in Nebraska and farm 3,200 acres, which is about the size of 3,200 football fields. The size of a family farm is influenced by many variables, including the type of crops and livestock grown in a certain climate, the number of family members involved, and whether or not family members are also employed off the farm.
Like many families managing their budgets to protect their assets and futures, we rely on our accountant for advice on how to manage our farm business. After many discussions, we concluded that the best way to ensure a future for us and our children on our farm would be to incorporate.
Why would a family farm become incorporated?  
Every penny of our income – all of our livelihood – comes from what we sow and grow. Our family farm – like any other family-owned establishment you may know in your own town – is a business with full- and part-time employees. Having a full-time employee work with us allows time to attend our children's activities, be involved in our community, and take care of our land and animals in the best possible way. We also need extra help during the busy harvest season.
Many business owners meet with their bankers, attorneys and accountants to build a solid plan to manage their assets. It also helps ensure they're making the best financial decisions to keep them profitable.
Farming is no different.
Now that we are incorporated, we have more protection over what we've been building and cultivating through the years.
Incorporating our family farm guards our assets by giving us liability protection as well as helps us manage risk if we have a bad year. It also provides us with a solid business plan and will eventually allow us to transition management of the farm to one or more of our sons. It's important to us to plan ahead. That way we know our land, farming knowledge and investments will continue feeding our family, our neighbors and our country.
 The changes stop there
Incorporation fiscally changed our farm, but it didn't impact who owns or operates it. Incorporating doesn't mean we are suddenly managed by another bigger corporation. There is no one telling us how we should raise our food or care for our land. No one gives orders on how many employees we should have or what we need to plant.
We still grow the same safe, quality food for consumers, just as we've always done. We plant the crops that will best suit our soil and environment. We choose how many cows we want to raise and what to feed them in order to provide optimum care.
Each and every decision about our farm is entirely ours to make. And we make those decisions only after careful consideration and consultations with agricultural and financial experts.
At the end of the day, we're a corporation and a family. By incorporating our farm, we're ensuring that we can continue providing safe, quality food to you for generations to come.
Do you have questions about farm size and incorporating our family farm business? Please reach out to me!
---