6.16.15 /
admin
Dairy Diary – Growing Up Dairy – Day 4
---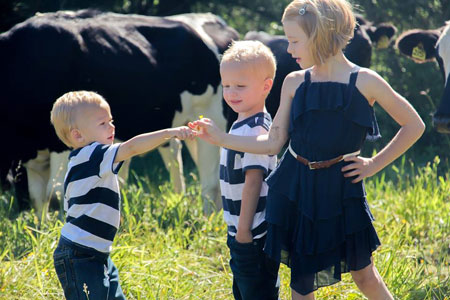 By Krista Stauffer, dairy farmer and mom from Washington.
From the time he was a child, my husband wanted to be a dairy farmer when he grew up. He is a fourth-generation dairy farmer. His parents sold their cows when he was young but that didn't get in the way of his dream. He worked for various dairy farms in his community as he was growing up and after high school.
He moved to my hometown in 2009 to start his farm. His lifelong dream had finally come true. Shortly after he moved, we met at the local feed store. The following year we were married, and his dairy-farming dream and passion quickly became mine. This June will mark the sixth anniversary of the first tank of milk leaving our farm. After six years of doing this together, and no matter what it throws at us, we still want to continue to dairy farm until we are too old. We now work side by side on our farm, where we currently milk and care for 140 cows. Our daily schedule is milking cows (twice a day), feeding calves (the babies), heifers (young female cows that have not given birth), dry cows (cows on a 60-day vacation at the end of their nine-month pregnancy) and our milk cows (female cows that have given birth and produce milk). During the winter, we just try to keep them all warm, well fed and milked, and pray the cold goes away. During the summer months, we store our feed for the rest of the year in addition to our daily chores.
We farm alongside our three children. They are ages three, five and soon to be eight. They have age-appropriate chores, like holding bottles while feeding calves, carrying empty buckets, filling the water up for young cows, etc. As they grow, their responsibilities around the farm will as well. We have had everything from a baby swing to a T.V. in our milk house so we can get the milking done as a family. In the summer, while feeding our cows, every truck we own has a car seat in it. The kids love it. I did not grow up on a farm, so seeing my children have these experiences makes up for it!
We farm for our kids. Do we love what we do? Yes. Do we love working with cows? Yes. But the main reason we do it now is for those three blonde-haired kiddos running around chasing chickens and calves. This farm is their future.
Right now, our boys say they want to farm just like dad. Our daughter says she wants to be a large-animal veterinarian. Whatever career path our children decide, we will support them. In the meantime, we will continue working day in and day out to continue living our American dream on our family dairy farm.
It hasn't been easy as a first-generation dairy farm, but it has been worth it.
---