9.20.17 /
Amy Erlandson
Day in the Life of Harvest, Perspective of a Farm Wife
---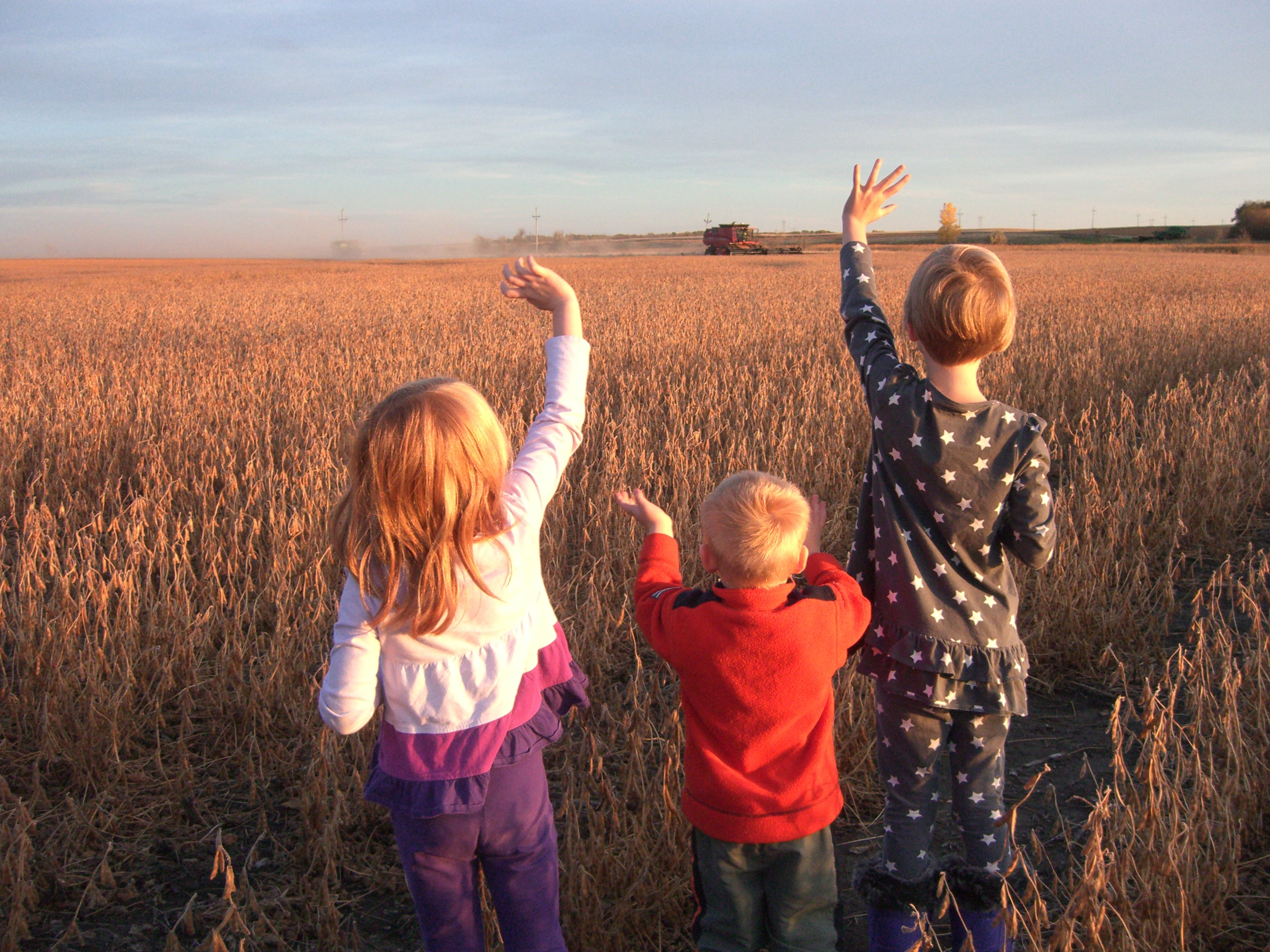 By Sarah Wilson
During harvest season on our family farm in Jamestown, North Dakota, my husband, Jeremy, and I split the family and farming duties among us, along with our two full-time employees Casey and Tony. He is the general manager of the farm and is usually in one of the combines. Sometimes, we also have interns who help.
My role is focused on the household, homeschooling our three children, and preparing the meals for our teams out in the soybean fields. In the afternoons and evenings, I go get whatever they need to keep harvest going. I help move equipment, I run for parts and fuel and occasionally I help run equipment.
Together, we are part of the 97 percent of U.S. farms that are family owned, and we take great pride in participating in this family farm tradition. On our farm, all of our workers are considered family as well.
Typical Daily Routine during Harvest
We harvest soybeans first each year, followed by corn, which are both used primarily as feed for poultry and hogs across the world.
We can't harvest when it's still dewy and moist outside, because wet crops clog the equipment, so our day usually begins around 8 or 8:30 in the morning.
We take that time to fuel up the trucks and harvest equipment, making sure everything is in the right place. Once we start each day, we work as long as we can.
Most days, that means people are in combines and trucks until as late as midnight. We keep a healthy stock of energy drinks on hand to help keep our team motivated and alert.
Harvest Challenges
During harvest, we have come to expect the unexpected. We are running combines with thousands of moving parts. Breakdowns and replacements are expected. And even though we expect them to happen, they can sometimes be a big deal.
For example, one time we had a broken part and our local parts supplier didn't have a replacement. My husband had to drive three hours, at midnight, to the closest replacement part.
We are very aware of how we're always running tired during harvest, and we make absolutely certain to make safety our top priority. We emphasize caution and communication among workers, and we look out for one another during the long days.
One thing that has a major impact on harvest is weather. We are completely at the mercy of weather conditions. Most of the time, any amount of rain shuts us down completely. Because we farm land that isn't all connected, we can sometimes just move our equipment to another area for harvest if a different part experiences different weather conditions and crop maturity rates.
Even though it may not be ideal, we sometimes realize that a rainy day means a welcome break, and we appreciate the chance to rest and reboot for the next day's work.
Harvest is a special time of year for us. It's our main project where we get to see all the work we did up to that point. We also get our one paycheck, so it's a really big deal.
When it's all over, we take a deep breath and get ready to do it again next year.
---