October 26, 2023
Amy Bluhm
This Marketing VP's Farm Passion: Pumpkins
---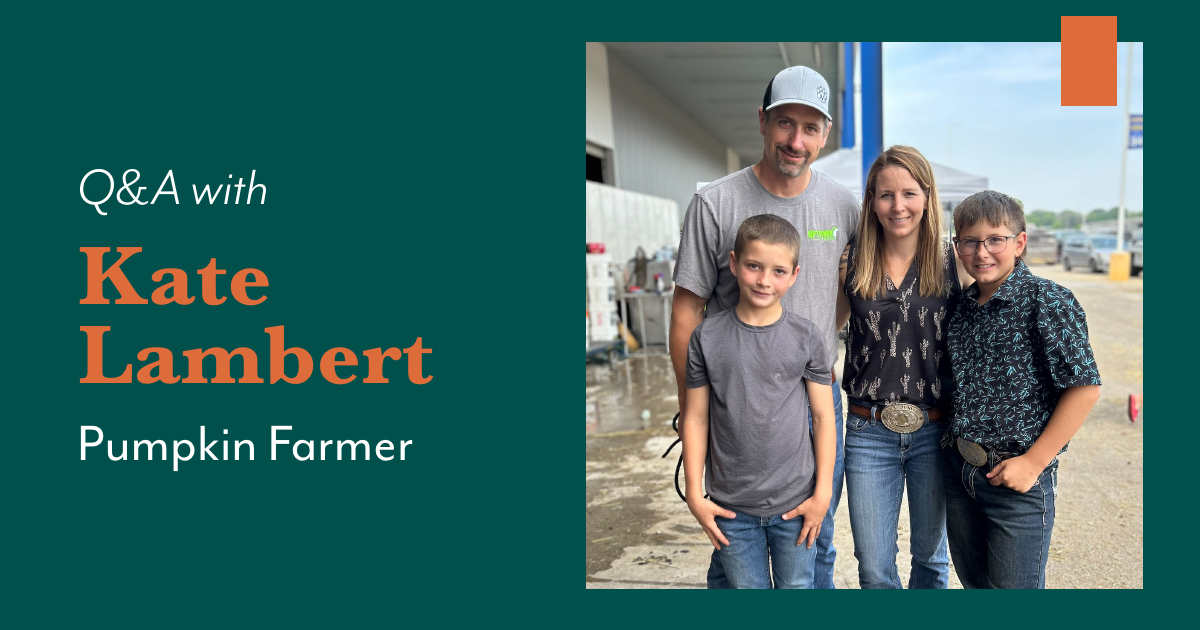 Kate Lambert, a Missouri farmer and Vice President of Marketing at FCS Financial, has turned a passion for community-building into a local pumpkin farm extravaganza.
Question: Did you grow up on a farm?
Answer: No, I grew up in suburban Chicago, about 65 miles from downtown. I was a member of the National FFA Organization and loved working with animals. I never dreamed I would end up on a large farm. I met my husband through FFA as a teenager. Now, we are raising two kids on our farm in Missouri. I am the Vice President of Marketing at FCS Financial, while also helping on our farm in the evenings and weekends.
Question: Tell us about the name of your farm, Uptown Farms.
Answer: When I married Matt, we were raising beef cattle, sheep, corn and soybeans. But I always wanted to do something that would bring people to the farm from local communities. One year we decided to give it a shot. We had no idea who might show up that first year, if anyone! We live in a very rural county more than 90 miles from any large population centers. Now we're in our sixth year, and we're growing forty-seven different varieties of pumpkins. Our farm is called Uptown Farms, and our agritourism enterprise now includes a corn maze, a play zone, hayrides and fresh apple cider donuts ready for visitors during the weekends in October. Much to Matt's displeasure, we also have a few goats for the pumpkin patch. People love them – Matt does not! People visit us from all over the region and it still amazes me how far people will come for our little patch and corn maze.
Question: What is it like to be a pumpkin farmer?
Answer: Raising pumpkins was a big learning curve. Pumpkins attract different insects and are vulnerable to different diseases than what we see in our row crops. We also have plenty of reliable resources like agronomists and research from universities and resources available to guide us through challenges with crops like corn and soybeans. It's difficult to find information for our type of pumpkin operation like optimal times to plant, effective ways to fight pests and the best chemistry for the soil. Thankfully my husband loves the challenge of learning from new people about new crops. Because of his curiosity and new pumpkin knowledge, we've grown to our current size.
Question: Describe your business approach when you started with the pumpkins.
Answer: We needed a way that would let us both sleep at night. We committed to starting small and growing slow. We didn't want to add more uncertainty to the risks we were already taking with the rest of the farm, and we didn't want to borrow money for an unproven model. So everything we did for the pumpkins we did with cash. We are still committed to growing slowly.
Question: What is the best question you get from customers?
Answer: I personally geek out when our customers ask me about ways to use different types of pumpkins. That's my wheelhouse. Here's an easy guide I'm happy to share to help you shop for the "just right" pumpkins at the store or a pumpkin patch near you.
Pie pumpkins / sugar pumpkins – These are smaller than a basketball, but bigger than a softball. The skin is dark orange, and the flesh inside is a little bit sweet and quite starchy. It's perfect for pies. Probably because of its size, people also refer to these as "kids pumpkins." We raise several other varieties this same size that we also call pie pumpkins, but they are technically different varieties. We raise some that are white, tan and even yellow. We also have a few F1 crosses that grow warts and get really fun for decorating!
Tiny pumpkins and gourds – We raise about a dozen different tiny pumpkins and gourds that get hard and are not designed for eating. These are popular with the kids who come to visit our pumpkin patch. They get to put them in a slingshot and fire them into our cow pasture! Don't worry – the cows stay away during the day and then eat the spoils after everyone leaves. It's a win-win for all.
Orange pumpkins – These are the Uptown Farms original, aka the Jack-O-Lantern pumpkin or carving pumpkin. We raise a dozen or so different types of orange pumpkins. My personal favorite are the wolf pumpkins, which are a medium size orange pumpkin that are hollow on the inside with massive stems. They're truly beautiful pumpkins that are also excellent for carving. This variety is not as heavy, which makes carrying them to the car a tad easier.
Heritage pumpkins – These beauties are great for fall decor because they stack well and come in a variety of colors. People tend to be surprised to find that these pumpkins are so heavy. That's because they have meat all the way through, which makes for great food with unique flavors. Bakers love to pick out a variety of these and use them for baking all throughout the fall season. Many of them have varied tastes and textures. Even the seeds can have slightly different flavors.