January 24, 2022
Amy Bluhm
Addie Yoder: What good thing from 2021 will you take with you?
---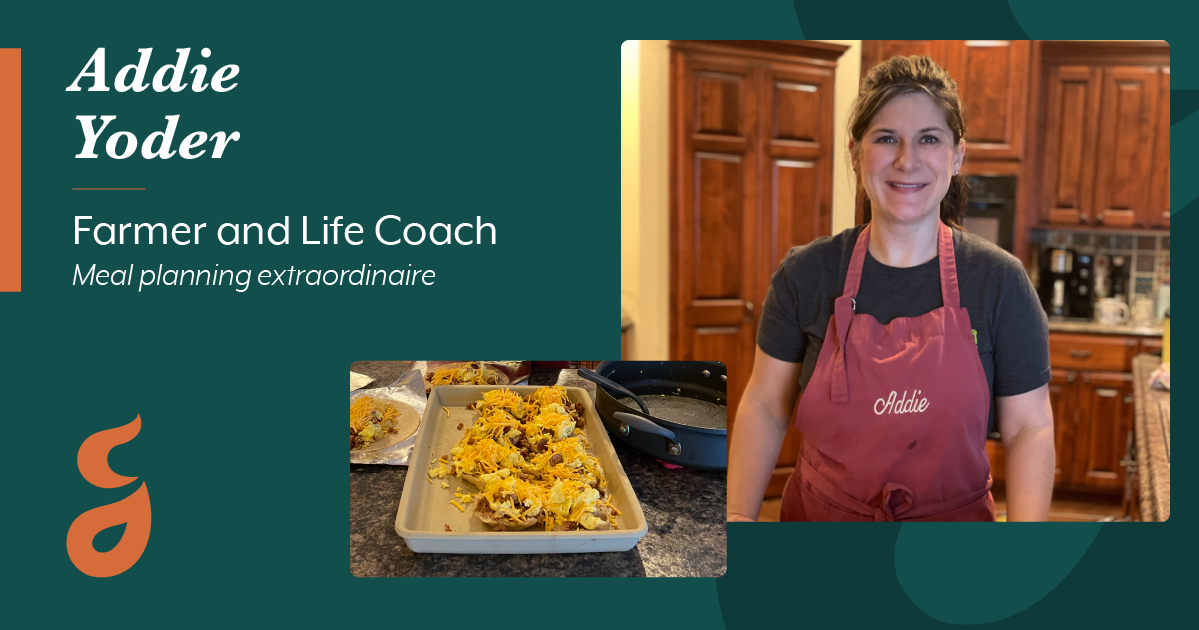 My meal planning system! It frees me from dinner decision fatigue and from getting the worst question of the day: "What's for dinner?"
I am a wife, a mother of four children ages 8-15, and CEO of Grace & Growth with Addie, my life coaching business. My husband, Joshlin, and I farm with his parents and his brother's family in northeast Missouri where we raise corn, soybeans and beef cattle. And Joshlin sells crop insurance in addition to his job on the farm. We're definitely busy.
For me, when the school bus arrives at 4:00 p.m., we're entering into a second shift full of sports/activities, helping with homework, housework, dinner, and bedtime. And during crazy seasons like harvest in the fall and January-February when Joshlin's traveling for work, I'm parenting on my own. This past year, I knew I had to get a food system together. Otherwise, the kids were going to live on chicken nuggets and frozen pizza.
Thankfully, the gal who leads my health and fitness group sends out meal plans every week. I started saving the recipes I liked. They are now in a binder organized by meal: breakfast, lunch, and dinner. I make a list of the meals I want for the next week, order my groceries, and then I'm ready for Sunday.
On Sunday afternoons, I treat myself to an audiobook (I love reading) while I cook everything I need for the week. Then when it's dinnertime each weekday, I do minimal prep and the meal is ready. I feel like I have things a little bit more under control when the schedule is out of control. And it's comforting to know that I'm set up for success.