3.1.16 /
ADMIN
Questions about GMOs? Let's Chat.
---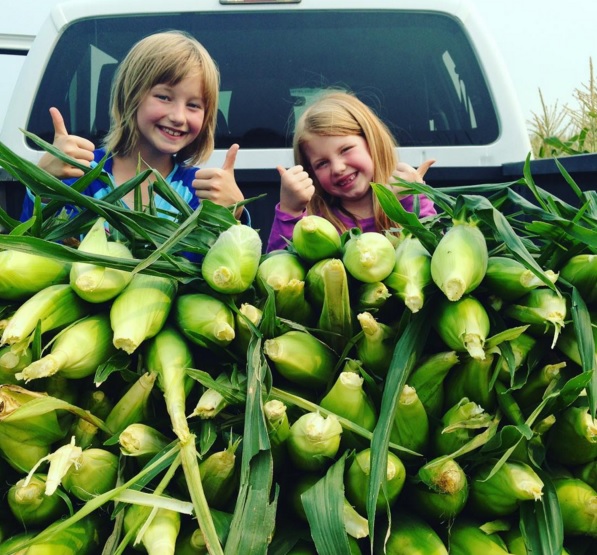 By Sarah Wilson
Sarah is a fourth-generation farmer from North Dakota. She and her husband grow corn, wheat and soybeans.
As a mom and a consumer, I have options when I go to the grocery store. White bread, wheat bread, organic, non-organic, fresh green beans or frozen.
Similarly, as a farmer, I have options when choosing what to plant year after year. And year after year, we choose to plant crops that have been genetically modified. We make that decision because we believe it's the right thing to do.
We care about who will be eating our food, and we feel morally responsible to use the technology we have available to us to grow that food. This is how we will be able to feed the growing population and maintain the health of our land for generations to come.
Still, the idea of growing and then eating GMOs can sound scary to many moms out there who are making decisions about what to feed their families.
Therefore, I'm here to help ease your fears and answer your questions using my own experience and information that is readily available so you can make your own decision.
Q: What are GMOs?
A: A GMO is an organism that has been developed by introducing a new, desired trait or characteristic into its DNA. This is done in a lab through genetic engineering.
Q: What are the benefits of GMOs?
A: There are many different kinds of desired traits that have been added into GMOs, such as the ability to thrive in extreme weather conditions or to resist harmful pests and diseases. These traits are beneficial for a number of reasons. They allow farmers to limit their impact on the land – less use of pesticides and water are good examples. Also, with GMOs, we're able to grow more food on less land and reduce the amount of crops lost from variables like insects or drought. This is crucial to help feed our ever-increasing population.
Q: Are GMOs safe?
A: The overwhelming consensus is, yes. GMOs are safe. Genetically modified crops are researched extensively to ensure they're safe for you, your family, animals and the environment before they're ever available for farmers to plant. No documentation of harm to human health because of GMOs has been recorded since farmers began using them in 1994.
Q: What GMO foods are available?
A: While you may see everything from ice cream to celery advertised as being "Non-GMO," in reality, there are only nine GMO foods available: alfalfa, canola, corn (field and sweet), cotton, papaya, salmon, soybeans, squash and sugar beets. And actually, it's because of GMOs that papaya is available at all.
Q: Are farmers forced to grow GMO crops?
A: No one forces us to grow genetically modified crops. It's a choice we make each and every year. We look at the conditions of our land and the seed varieties that are available. We do the research. We listen to the advice of our agronomists (scientists who look for ways to raise more food on the same amount of land), crop consultants and local university professors. Then we make the best decisions for our farm. We grow a balance that works for us, including GMO and non-GMO crops. There's absolutely no requirement either way.
Q: What's the bottom line?
A: I wouldn't grow GMO crops if I didn't think they were safe. I will let my kids eat sweet corn right out of the field; that's how confident I am in what we grow. I would never want to do anything to put your children or mine at risk. In fact, it's because of these children and future generations that I feel an obligation to grow GMOs at all. I want to ensure that kids around the world just like mine will have food to eat and nourish their bodies, and that they'll be able to continue farming on this land for years to come.
Q: How can I learn more?
A: That's easy! Ask more questions. The women of CommonGround are here to answer any questions you have about how your food is produced. We believe we all have a common goal of wanting to provide the best for our families, and we want you to be confident in each and every choice you make when putting food on the table. So ask us all your burning questions today!
---