October 11, 2022
Amy Bluhm
Emma's Rural Investments: Equipment, Cows & Commitments
---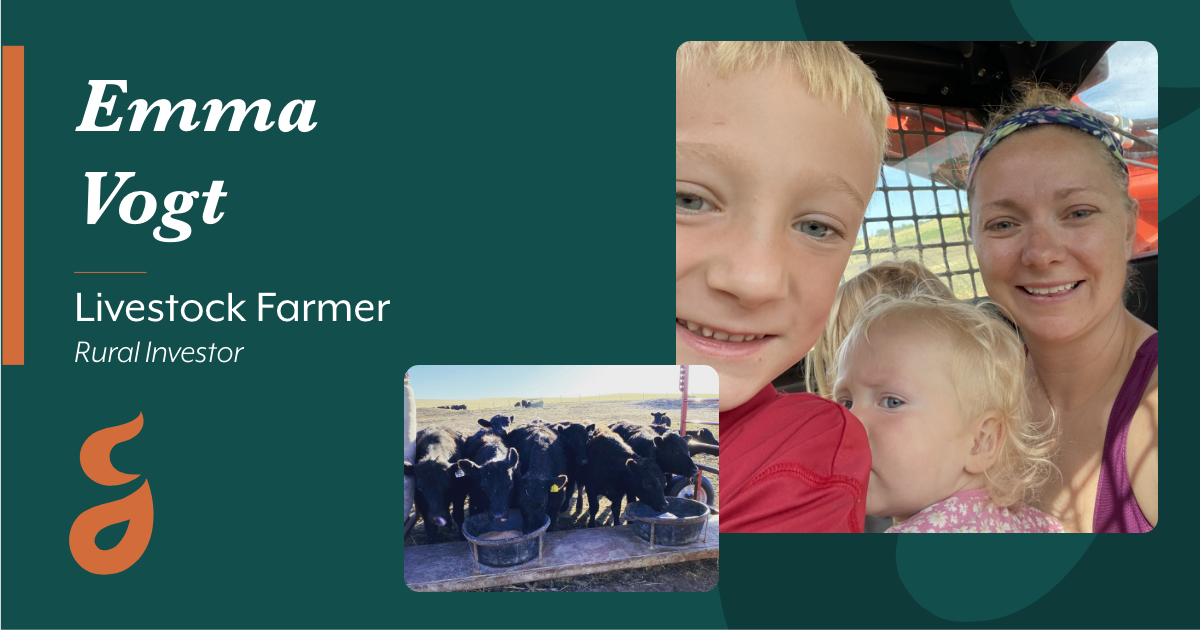 I will never forget when my husband, Ryon, and I bought our first big farm purchase together. Maybe a good comparison is to say that it was like buying your first car or first house. But since we're farmers, it was our very first 25 cows (which farmers would refer to as "25 head of cattle"). Because we bought and paid for them all on our own, we got to brand them with our own brand. It was really exciting! I laugh thinking about it sometimes because most people don't live in the country like we do. Instead of investing in a home and selling it for a profit down the road, out here we invest in equipment and cows and then pass it along to our kids. I helped my dad on the farm growing up. Now our kids help us. No matter where we live, I think we are all trying new things and making improvements in order to provide good things for our families and loved ones.
For us, owning cattle means that we can get nostalgic about the animals we own. For example, our very first cow, Moostache, will always be special to us because she was our first. She is completely white just around her mouth. Moostache probably won't have any more babies and lost her one and only, which is not a great return on our investment. But at the same time, animals like Moostache are where we put all of our efforts. We worry about our livestock in a different way than one might assume. While we're in the farming business to make a profit, we actually want the very best for each animal. We want to provide for them the way they provide for us. We are committed to them. And our commitments have become the foundation to how we farm. I've learned about being committed through my family. Even the family members I've never met.
I never got to meet my great-grandmother. But my great-aunt thoughtfully saved her quilt and her wedding ring and gave them to me. That ring represents my grandfather's love and commitment to my grandmother. The quilt is something that she used every day. So it feels like I get to have a part of her with me because I have her special things. In a similar way, we inherited land to farm from my husband's family. That felt like his great-grandparents committing to and loving us. Now we get to wake up here every day just like they used to do. We are committed together through the years of good harvests. And together through the tough ones, too.