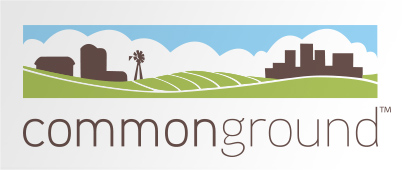 Making a Connection
---
"I really think that it is easy to connect with people living in completely different circumstances because ultimately our wants and desires and the things that we care about are the same. We typically can find a common ground somewhere in there."
– Addie Yoder, Missouri farmer and mom
Play Video
Ask A Farmer
---
Have you ever wondered who is growing your food and if it's safe? At CommonGround, we help you find the answers.
Play Video
Thriving on Trust
---
Are you curious about the welfare of cattle raised for the beef we eat? This video, featuring CommonGround volunteer Kelsey Pope and her mom, Cindy Frasier, offers an inside perspective on the interdependent relationship that ranchers have with their herd.
Play Video
Not a "Latte"
---
Do you have questions about the amount of pesticide farmers use on their crops? The answer, explained here by North Dakota farmer and CommonGround volunteer Sarah Wilson, may surprise you.
Play Video
Land is Love
---
What are U.S. farmers doing to protect the environment? Hear the answer from CommonGround volunteer, Diane Karr, and the reasons why farmers are taking steps to become more and more sustainable.
Play Video
Nothing to Fear Here
Tour the farms, communities and homes of CommonGround's farmer-volunteers as we sort through some of the myths and misconceptions surrounding food and farming.
About
CommonGround
---
At CommonGround, we are a group of farmers having conversations about the food we grow and how we produce it. We share our personal experiences, as well as science and research, to help consumers like you sort through the myths and misinformation surrounding food and farming. CommonGround was developed by the National Corn Growers Association (NCGA), along with state corn and soybean grower organizations. We welcome you to join the conversation — and to enjoy your food without fear.