April 7, 2022
Amy Bluhm
Amanda Miller's Secret Topsoil Recipe
---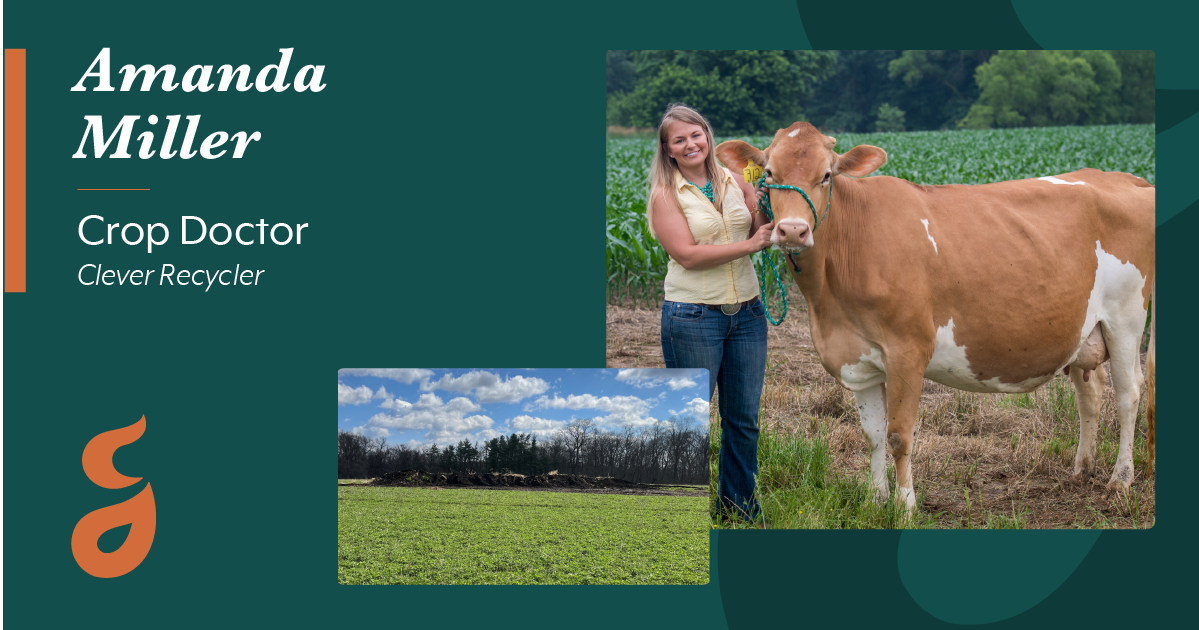 I grew up in Baltimore, Maryland while a lot of farmers, like my mom, spent time on their family's farm. Mom exposed me to a more rural way of living through things like gardening, 4-H, horses and more. That exposure led me to study agriculture in college, and I went on to become an agronomist. When people ask me what that means, I tell them I'm a crop doctor. Farmers call me to examine crops with infection or damage. I give a diagnosis, then write up a report with the best options to strengthen and protect those crops. It was definitely interesting being a girl from the city telling 10,000 acre farmers how to grow their corn and soybeans!
Then I joined my husband and his family on their dairy, Chesapeake Gold Farms. Agronomy jobs were not available nearby, so now I focus my time on the dairy. But what I learned as an agronomist is highly beneficial to us. We grow 85% of the feed that we give our cows, which includes crops like alfalfa, corn, soybeans and wheat.
One thing I learned from my agronomist days is how close we are to Kennett Square Pennsylvania, the mushroom capital of the world. Mushroom growers use a blend of hay, corn cobs, manure, grains, and even cocoa bean hulls as a compost. They call it "mushroom substrate." Once the mushrooms are grown, they steam that substrate, which removes diseases and kills weed seeds. Then they call it "spent mushroom substrate." Crop farmers can use this substrate as a way to enrich their soil. And now we've adopted this great practice.
We do everything we can to preserve and protect our soil. In the winter we grow wheat, rye and barley to keep the fields covered, and to keep the topsoil in place. In the spring, we've started applying the spent mushroom substrate with a spreader to our corn and soybean fields before we plant. It's great for mushroom farmers because they have a market for their waste. And it's great for farmers like us to build our topsoil. Waste not, want not, right?!