May 12, 2022
Amy Bluhm
Yes to the Farm. And Yes to Mankato. Angela's Community is a Country and City Mix.
---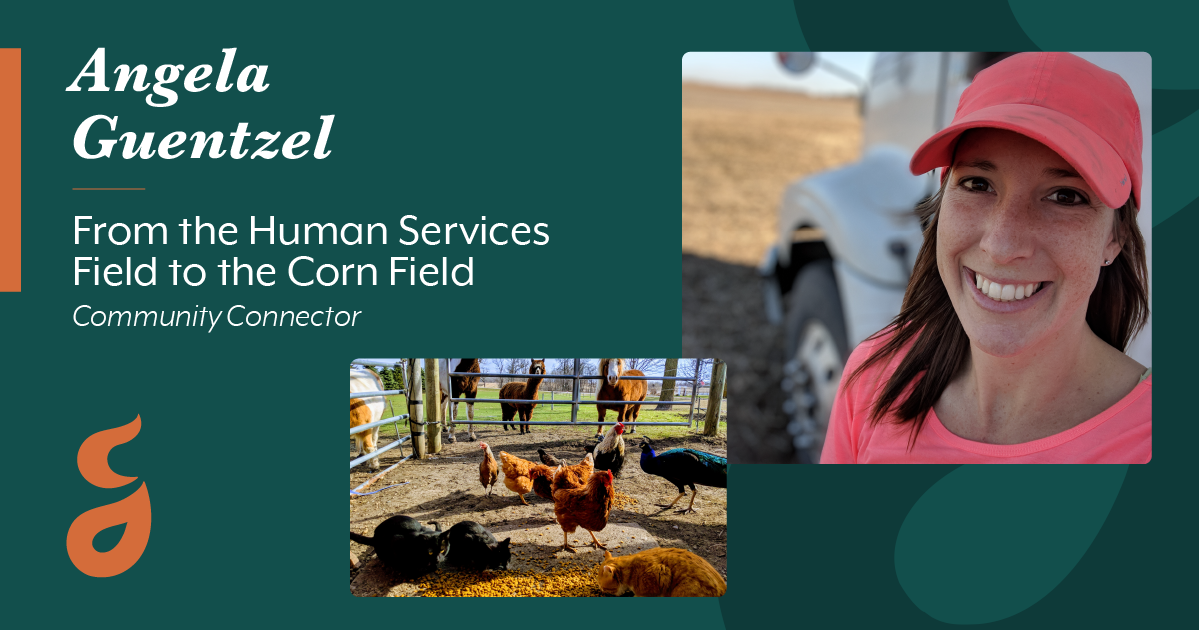 I didn't start out in my career as a farmer. And I definitely gravitate to both the city and rural life. Growing up for me was an interesting mix of country and city living because I lived on my family's farm, and then went to Mankato East High School (in Minnesota). I was one of few farm kids there, so my friends drew lots of pictures of tractors in my yearbook. 
I went off to college to study sociology with a minor in Spanish in college – not ag science or ag business like a lot of farm kids do. But then I'd always return home during breaks to help on the farm. After I graduated, I found a job using my degree doing work with homeless youth and then working for people with mental and physical disabilities. Just like during my college days, I'd always end up back on our farm to help during harvest if I could get the time off.
Then my brother asked if I'd like to join them working full-time in 2014 after an employee quit. I went for it. At first I was scared because it hadn't been my focus. And now I love it. I enjoy working outside, doing projects in the shop, desk days, and especially seeing a tangible result for the season's work during harvest. My strength on the job is my ability to multitask. I handle payroll, human resources (that's where my degree came in handy) and driving big equipment including semis, tractors, the backhoe, and forklift when needed.
Even though I've returned to the farm, I'm interested in ways to connect with our broader community. I've served on the Greater Mankato Growth Board with other local business leaders. Together we represented all of the industries in the area – schools, agriculture, development, business, and more. We learned about our common struggles and how we could work together to shape and develop a cohesive community. That was so exciting.
Now I'm married, and my husband has a chemistry background paired with a sales career at our seed company. He loves growing a small patch of giant pumpkins on the farm every year. And we keep some unique animals around just for fun – lots of cats, chickens, a peacock, a mini pony, a mini donkey and an alpaca named "Jenna." We put a veil on her at my cousin's wedding. She's always a huge hit.
All of these things – our location, the pumpkins, the animals and our crops – provide us with great ways to stay connected to Mankato. We host a Breakfast on the Farm for the general public and give tours to preschool and elderly groups. Preschoolers love the cats! The adults appreciate that they can get information from us directly about farming and food. And I get to continue working as a connector between our farm with the local community.